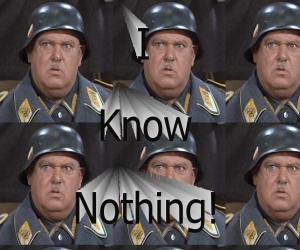 "I know n-OTH-ing!!!"
The phrase used to echo through living rooms in the 60s and 70s... The popular comedy programme - "Hogan's Heroes" - was a story of the antics/shenanigans of a group of Allied POWs in a Nazi German camp. The head prison guard was a portly Nazi by the name of "Shultz".
Shultz was "in charge" of security, but always claimed to "know nothing" when questioned about his involvement or knowledge... Sound familiar? Sound like a certain portly, cat-loving PM?
How long can the most egomaniacal, controlling, oppressive PM EVER continue to deny he knew nothing about any scandal that happens to come up under his watch? His own Cabinet colleagues are having meetings with Jaffer in "Jaffer's" (Helena's) Hill office... Is Harper an idiot? Only an idiot wouldn't know what one of his former party's young proteges was doing on the Hill - every day... Did Harper (or his PMO staffers) never make a trip down to Helena's office? I doubt that they didn't...
Shultz... He's shultzing us...
Wonder who Commandant Klink is? Flanagan? Preston Manning (the annoyingly grinding voice sure is similar)...
Harper knows "nothing"? Yeah, sure. Uh-huh...
VICTORY FUND